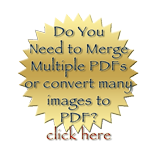 The Create PDF program

Would you like to be able to create PDF files without purchasing expensive PDF software from Adobe? Try our PDF maker!
Supported File Types:
JPEG
GIF
PICT
TIFF
PDF
TEXT
Donation Ware
The Easy PDF Creator software is available for Free. If our program really helps you out, we encourage you to help us keep it Free by making a donation.

The Easy PDF Creator program is compatible with Mac OS X.