How to use Get Songs From iPOD
Get Songs from iPOD Tutorial:
Before you run the program, you will need to make sure that your iPOD is mounted as a disk drive. The best way to make this happen is to quit iTUNES. If you quit iTunes, and the device still does show up, follow these instructions:
Connect iPod to your computer.
Open iTunes if it doesn't automatically open.
Select the iPod icon in the Source pane.


Click the Summary tab.
Select "Enable disk use" or "Manually manage music and videos." Either one will allow you to use iPod as a drive. If you select "Manually manage music and videos," iTunes won't automatically update iPod with the iTunes library. If you want iTunes to automatically update your iPod, select "Enable disk use" instead.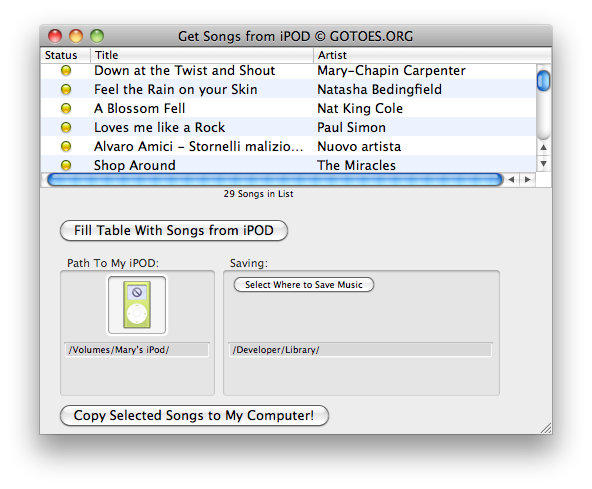 Above is a Screenshot of the software
Donation Ware
The Get Songs From your iPOD software is available for Free. If our program really helps you out, we encourage you to help us keep it Free by making a donation.
Supported OSs:
Mavericks (10.9)
Mountain Lion (10.8)
Lion (10.7)
Snow Leopard (10.6)
Leopard (10.5)
Tiger (10.4)
Get Songs Off iPod

The Get Songs From your iPOD program is compatible with Mac OS X.