This is a brief tutorial on how to combine more than one PDF file using your Mac. There is a video tutorial on this page as well as the text description below.
Step 1:
If you haven't already done so, download PDF Merge using the link on the left.
How to Merge several PDF files on the Mac
Step 2: Launch the application, and drag all of the PDF files that you want to combine into the main window. Note that in our demonstration, we just drag two PDF files, but in the registered version, you will be able to combine an unlimited number of files.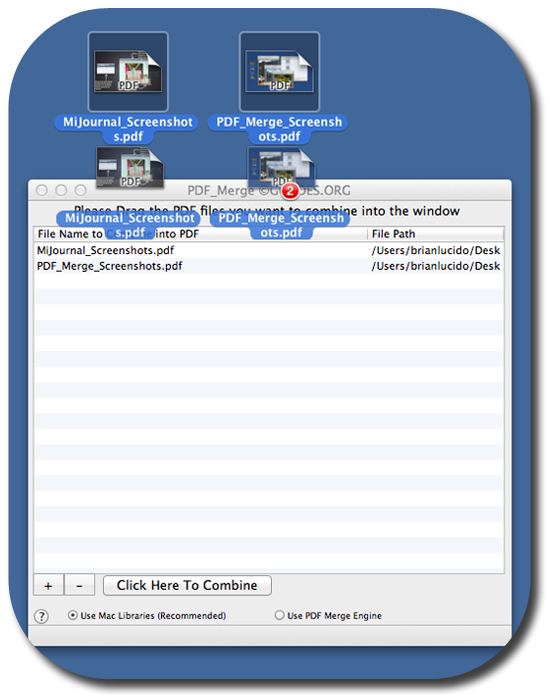 Step 3: Once the files are loaded into the application window, you have two choices for combining files. We recommend that you use the built in Mac libraries for combining. This will produce a singe PDF file that should open nicely in applications like Preview (which is built in to your Mac). If your combined PDF file does not render the way you think it should (for example, on a PC), you can always try using the PDF Merge Engine. Toggling between the two options is easy - at the bottom of the main window.

Step 4: Once you have adjusted the settings, and loaded your files, simply click the button that says, "Click Here to Combine"

Step 5: It is at this point that you will be prompted to select a name for your destination PDF file, and a location. Please enter the name of your new document, and click the save button. Within a few seconds, you should see your new, single PDF file appear on the desktop.

Special Notes: If you would like to adjust the order / sequence of the files in the final document, you can either drag them into the window one at a time (in the order you would like for them to appear). Alternatively, you can drag them all in at once, and the drag them within the window to re-arrange them. The PDF files will be combined in the order in which they are listed.
Page Last modified: October 07, 2014
Buy PDF Merge ↓
Supported OSs:
High Sierra (10.13)
Sierra (10.12)
El Capitan (10.11)
Yosemite (10.10)
Mavericks (10.9)
Mountain Lion (10.8)
Lion (10.7)
Snow Leopard (10.6)
Leopard (10.5)
Tiger (10.4)
Panther (10.3)
PDF Merge:
The PDF Merge software is available for immediate download after purchase. Once you have completed your transaction on PayPal's website, return to GOTOES.ORG to obtain the PDF Merge software. A link is also sent by email. If you do not get the email, check your junk mail filter!

The PDF Merge program is compatible with Mac OS X.
Once you purchase, updates are FREE for life!
Our free trials are full featured. The only limitations are the number of items you can process.