Movie Stitch Software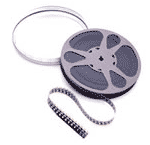 Would you like to be able to join several movies end-to-end with your Mac computer? Now you can! The Stitch Movies program does just that. Simply drag-and-drop several Quick Time movies onto the program icon... and Quick Time will join all of the movies into one Big movie. You will need Quick Time Pro if you need to save this moive.
Movie Stitch works on Mac OSX
Simply drag file(s) onto the the program icon. This program only works with Quick Time Movies...
Donation Ware
The Movie Stitch software is available for Free. If our program really helps you out, we encourage you to help us keep it Free by making a donation.

The Movie Stitch program is compatible with Mac OS X.