The Movie Stitch program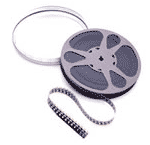 Do you want to be able to Concatenate several movie files into one larger movie? Now you can with our Movie Stitch program!
Supported File Types:
Quick Time

This program can stitch together Quick Time Movies only. It is free for you to use.
Donation Ware
The Movie Stitch software is available for Free. If our program really helps you out, we encourage you to help us keep it Free by making a donation.

The Movie Stitch program is compatible with Mac OS X.