The EASY PDF program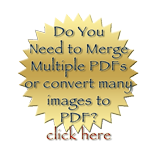 Would you like to create PDF files with your mac... but don't want to spend hundreds of dollars purchasing Adobe Acrobat Standard? You can save money by using our free program to create PDF files on your Mac. The application is a simple, lightweight, drag-and-drop application that will make a PDF file out of most image and text files. You can drag multiple files onto the program at once - facilitating batch mode processing. You probably know that you can create PDF files with Preview - but Preview does not lend itself easily to batch mode processing.
Easy PDF works on Mac OSX
Simply drag file(s) onto the Easy PDF icon. If the file type is acceptable, a PDF version of your file will appear in on your desktop! The free version is full-featured donation ware.
If you need to merge these PDF files into one file, try our PDF Merge Software.
Donation Ware
The Easy PDF Creator software is available for Free. If our program really helps you out, we encourage you to help us keep it Free by making a donation.

The Easy PDF Creator program is compatible with Mac OS X.