Features of the Folder Icon Maker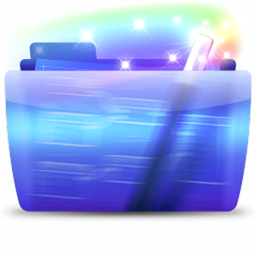 Change The Icon of a folder or file: You can easily change the icon of any folder or file to a custom icon. You can use one that we provide in our extensive library, or you can add your own custom icons to your own personal icon library.
Batch Mode Processing: You can change the icons of hundreds of folders / files at a time - in just seconds!
Custom Icon Library Editing: Download PNG images / icons from the web, and assign them as folder icons with this tool. You can even take image - photos that you've taken with your camera - and assign them as folder icons in a snap!
Fully Customizable Toolbar: You can customize the icon toolbar so that the custom icons you use the most are within easy reach. Simply click the "customize" button in the toolbar, and shuffle your custom icon libraries so the ones you use the most are within the easiest reach!
Updates: All Updates are free - for life. So, if you purchase the Folder Icon Maker today, don't worry about getting left out in the cold as we add features, and custom icons.
Page Last modified: October 10, 2014
Buy Folder Icon Maker ↓
Supported OSs:
El Capitan (10.11)
Yosemite (10.10)
Mavericks (10.9)
Mountain Lion (10.8)
Lion (10.7)
Snow Leopard (10.6)
Leopard (10.5)
Folder Icon Maker:
The Folder Icon Maker software is available for immediate download after purchase. Once you have completed your transaction on PayPal's website, return to GOTOES.ORG to obtain the Folder Icon Maker software. A link is also sent by email. If you do not get the email, check your junk mail filter!

The Folder Icon Maker program is compatible with Mac OS X.
Once you purchase, updates are FREE for life!
Our free trials are full featured. The only limitations are the number of items you can process.