Zip Mac Files for the PC Utility FAQs
(Updated 10/01/2012)
---
How do I use Zip Mac Files For PC?
Simply drag and drop files and / or folders that you want to zip / compress onto the program icon. The program will open up with all of these files / folders loaded. Alternatively, you can double click the application to open it, and then drop files and folders that you want to zip / compress into the main window to load them. Once everything is loaded, click "ZIP!", specify a destination, and your zip file will appear!:
---
Do you have a screenshot of the app?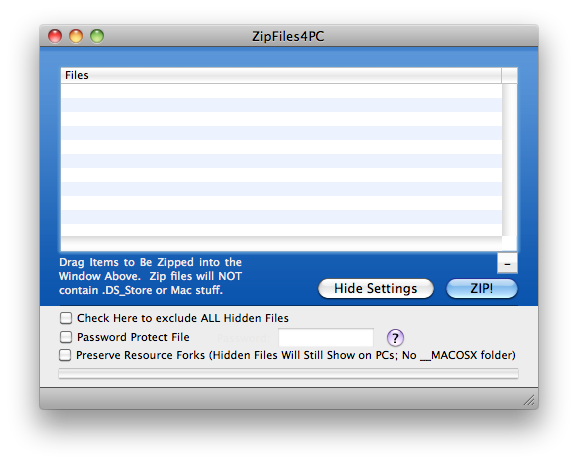 ---
What Do the ZipFiles4PC Options do?
If you don't check any options, your zip files will have the ".DS_Store" files excluded only.
If you check "Check Here to Exclude ALL Hidden Files, your zip file will not contain any files that start with a "." (sometimes called "dot files") These files are usually invisible on a Mac, but generally show up on other operating systems. The Mac uses these "dot files" to store certain information.
If you check the "Password Protect File" option, ZipFiles4PC will prompt you to supply a password to protect your zip file. There are some caveats, however, with opening these files on various operating systems (see below).
Some files on the Mac also have two parts. These parts are called "data forks" and "resource forks." When you create a zip file using the built in tools on the Mac, the resource forks will be sequestered into a folder called "__MACOSX". On operating systems other than Mac, resource fork files usually start with "._" or "._.". There is usually one of these files for every file in the original folder. Sequestering the resource forks may be useful to most people, as it gets the resource fork files "out of the way," but for some people who are uploading to a server, the inconvenience of having an additional folder (__MACOSX) is troubling. If you are one of those people, check this box, and your files will still be 100% compatible with your Mac, and they won't have the extra __MACOSX folder.
---
I can't get the zip Mac files free trial to work!
As a Mac user, you are probably used to being able to name your files and folders with any characters you want. Our friends in the PC world, however, have many limitations placed upon them when it comes to characters. The Zip file for PC utility will not create a zip file if the files within contain names that will not work on a PC. Typical "problem" characters are forward slash (/) and space ( ).. though other characters may cause a problem as well
---
I paid for ZipMacFiles4PC, but can't get the download...
After you finish with PayPal you should get an email with a download link within 1 to 5 minutes - never longer. If you do not see the link in your inbox, please CHECK YOUR JUNK MAIL. If you still don't see it, make sure that you are checking the right email address (the one you have registered with PayPal). If you are still having trouble, you can contact us using the "Contact Us" link above. We can e-mail the software to you manually if you didn't get the download. Please keep in mind that this process might not be instant. Usually, we will respond to your e-mail within minutes, but sometimes it can be longer.
---
How does the Password Protected Zip File Feature Work?
Creating Password Protected Zip files all depends on your OS (operating system). If you are using Tiger (10.4) or earlier, you are not able to create Password protected zip files. If ZipMacFiles4PC is running on a Tiger or earlier machine, it will not display the password protect option box. If you are using Leopard (10.5) or Snow Leopard (10.6), the option will display - however
You will need special software to open the zip file on your Mac!
The password protected zip files will open on Windows machines with no problem (XP or later), but if you want to open the password protected zip files on your Mac, you will need to get special software. Leopard and Snow leopard will tell you that the file is "corrupted" (which isn't exactly the case). If you are using Lion (10.7) or Mountian Lion (10.8), you will have no problem creating or opening password protected zip files.
---
What is your refund policy?
Unfortunately, we cannot offer refunds. We offer a free trial so you can determine if the software is compatible with your operating system. Please try our free demo before you buy. If you have any questions, please use our support form to get your questions answered before you purchase.
Purchase Mac Apps. ↓
Supported OSs:
Mountain Lion (10.8)
Lion (10.7)
Snow Leopard (10.6)
Leopard (10.5)
Tiger (10.4)
Panther (10.3)
Zip Mac Files For PC:
The Zip Mac Files For PC software is available for immediate download after purchase. Once you have completed your transaction on PayPal's website, return to GOTOES.ORG to obtain the Zip Mac Files For PC software. A link is also sent by email. If you do not get the email, check your junk mail filter!

The Zip Mac Files For PC program is compatible with Mac OS X. Once you purchase, updates are FREE for life! Our free trials are full featured. The only limitations are the number of items you can process.