Encryption Buddy - Protect Files on Your Mac
(Last Updated 10/29/2012)
---
How do I upgrade from the free trial?
Getting the registered version of Encryption Buddy is easy. Just click on the "buy now" button and pay using PayPal. You will receive a download link by email. Download the file and run the installer. You will want to install the paid, registered version of the app over the free trial if you had been using the free version. If you have been using the free trial, don't worry: All of your preferences, and password hints, etc. will still appear once you install the registered version.
---
I paid for Encryption Buddy, but can't get the download...
You will receive a link to download the Encryption Buddy app automatically by email. If you don't see the email, please check your junk mail. If you ever have any need, you can contact us, and we can email a link to you manually. Please keep in mind that this process will not be instant. We will absolutely respond to your email in less than 24 hours (Usually we respond within minutes, however).
---
What about updates? Are they free?
We really appreciate our registered users and loyal customers. All of the Encryption Buddy updates are free for life. Be sure to check the Version History to see if you have the latest version. Thanks for being a loyal customer! If you ever have a feature request, we encourage you to contact us. We can't promise to implement every suggestion, but we have added dozens of features to our other apps over the years - most of those ideas have come from our customers.
---
How do I know if your File Encryption Software will work on my Mac?
Please download the Free Trial software to find out if you can use the Encryption Buddy app to password protect files on your Mac. The supported operating systems are listed in the left hand column on this page..
---
Will Encryption Buddy store my password?
While you are using Encryption Buddy, it will keep your password in memory.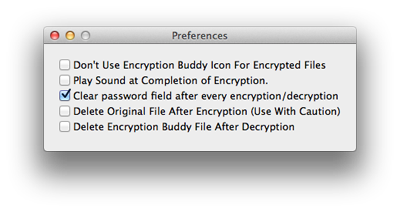 This is convenient if you are encrypting multiple files. When you close the app, all passwords entered will be released. Also, if you prefer to enter your password every time, simply navigate to the preferences menu, and select the Clear password field after every encryption/decryption.
---
What kind of password can I choose?
Encryption Buddy allows you to use any characters in your password!
---
What are the steps to password protect my files?
Start the application running by double clicking the icon.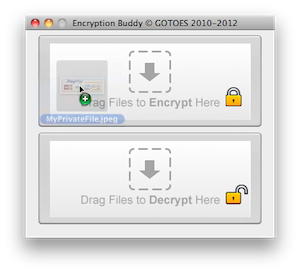 Once the app is running, drag a file (or multiple files) into the top of the window.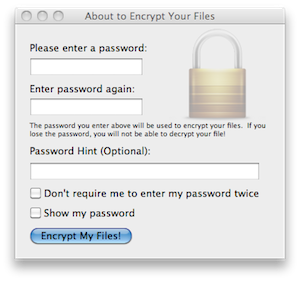 Once a file has been dragged into the "Drag Files to Encrypt Here" box, a new window will open, prompting you for a password, password hint, and a few preference settings (which are retained even when you exit the application). After you click the "Encrypt My Files!" button, a new file with the same name (but an ".eb" extension) will appear on your desktop. This is an Encryption Buddy file, and it can only be decrypted by someone with the Encryption Buddy program and the appropriate password. The password hint is stored within the file in plain text - so be sure not to make your password hint too obvious!

Eventually, you will want to decrypt your Encryption Buddy Files. To do this, double-click an Encryption Buddy file, and drag it into the "Drag Files to Decrypt Here" portion of the main window. You will be prompted to enter the password, and given the password hint (if you had supplied one). You can decrypt batches of files assuming that you had given them all the same password.



Purchase Mac Apps. ↓
Supported OSs:
Mountain Lion (10.8)
Lion (10.7)
Snow Leopard (10.6)
Leopard (10.5)
Tiger (10.4)
Mac Password Protection App:
The Encryption Buddy software is available for immediate download after purchase. Once you have completed your transaction on PayPal's website, return to GOTOES.ORG to obtain the Encryption Buddy software. A link is also sent by email. If you do not get the email, check your junk mail filter!

The Encryption Buddy program is compatible with Mac OS X. Once you purchase, updates are FREE for life! Our free trials are full featured. The only limitations are the number of items you can process.