Encryption Buddy Features

Clean Interface
Encryption Buddy has a very simple, clean, easy to understand interface. Simply drag and drop the files and/or folders that you want to password protect / encrypt into the main window, and Encryption Buddy will take care of the rest for you. You will be prompted to supply a password and a password hint.

Stable
Unlike some other password protection / encryption apps, Encryption Buddy is stable. Additionally, updates are free for life - so you will always have the latest version.

Files AND Folders!
Encryption Buddy can encrypt files AND folders! This ability makes it the top Mac Security app on the market!

Exclusively for the Mac
At GOTOES, we only write software for the Mac. This keeps us focused on delivering Mac level quality apps that have well thought out user-interfaces, beautiful designs, and a clean set of features.

Available on the Mac Store
Encryption Buddy is available on the Mac Store as well as our website. Apps on the Mac Store must undergo a stringent review process to be accepted, so you know you can trust Encryption Buddy.

Sample Screen Shots: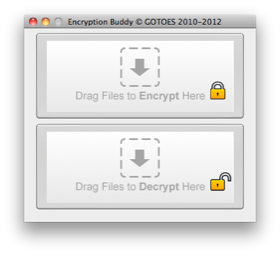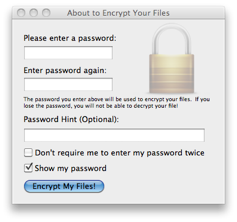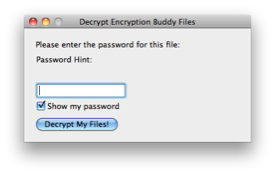 Page Last modified: October 02, 2014
Buy Encryption Buddy ↓
Supported OSs:
El Capitan (10.11)
Yosemite (10.10)
Mavericks (10.9)
Mountain Lion (10.8)
Lion (10.7)
Snow Leopard (10.6)
Leopard (10.5)
Tiger (10.4)
Mac Encryption App:
The Encryption Buddy software is available for immediate download after purchase. Once you have completed your transaction on PayPal's website, return to GOTOES.ORG to obtain the Encryption Buddy software. A link is also sent by email. If you do not get the email, check your junk mail filter!

The Encryption Buddy program is compatible with Mac OS X.
Once you purchase, updates are FREE for life!
Our free trials are full featured. The only limitations are the number of items you can process.