Sports Equipment Logbook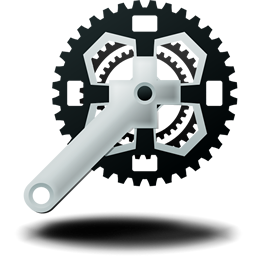 Tracking your Sports Gear.
Do you wish that you could track your equipment and gear in Garmin Connect or Garmin Training Center? Garmin's excellent software allows you to keep track of your heart rate, mileage, and other fitness stats - but what about your gear? If you are a runner, you probably know that it is critical to rotate your running shoes every 500 miles to keep them cushy for injury prevention. If you are a cyclist, you might wish to keep track of the mileage and wear on a certain tire, or chain. If you are already using a Garmin Fitness GPS, then the mileages are already on your computer - but Garmin doesn't offer a database to manage them. Enter the Sports Equipment Log for the Mac. Our easy to use software lets you track mileage on all of your gear - AND it is compatible with many Garmin Fitness GPS units!
A Logbook that you can customize
Download the Free program Now! The Sports Equipment Log lets you import an image of your favorite equipment - every piece of equipment. This makes it easy to visually see every piece of gear in your library. A basic user may wish to just keep track of a few pairs of running shoes, and maybe a bike or two... but the Sports Equipment Log has the power to track ALL of your gear! A power user could keep track of bicycle chains, tires, running shoes - any gear that is worth tracking can be tracked quickly and easily. Sports Equipment Log will automatically synchronize with your Garmin Track files - or you can manually enter activities for the greatest level of flexibility.
Integration with GPS units
The software is designed to make it easy to import activities from ANT+ compatible GPS devices. It automatically finds the TCX files, and updates your database with the click of a button. If you keep GPX files in a folder on your computer, Sports Equipment Log can also be trained to read that folder, saving you from having to manually enter activities - saving you keystrokes. After an import, all you have to do is select your equipment from a drop-down menu to assign the proper piece of gear to an activity.
Built for Garmin GPS Users
Page Last modified: September 29, 2013
Buy Sports Equipment Log ↓
Supported OSs:
Mavericks (10.9)
Mountain Lion (10.8)
Lion (10.7)
Snow Leopard (10.6)
Sports Equipment Log
The Sports Equipment Log software is available for immediate download after purchase. Once you have completed your transaction on PayPal's website, return to GOTOES.ORG to obtain the Sports Equipment Log software. A link is also sent by email. If you do not get the email, check your junk mail filter!

The Sports Equipment Log program is compatible with Mac OS X.
Once you purchase, updates are FREE for life!
Our free trials are full featured. The only limitations are the number of items you can process.